Yesterday we told you about the silent film that Karl Lagerfeld directed, in homage to Mlle. Chanel, to introduce the Chanel Métiers D'Art Pre-Fall 2009 collection.  I just found a teaser, and I NEED to find the whole thing! I love it! It totally captures the Chanel spirit, especially since it's filmed in a way that was "a la mode" of the time period that he's portraying. Karl is a genius. Check out the teaser below:

And now, the clothing!  Karl always manages to surprise and delight me.  Whenever I think I've seen it all, he takes it to a whole other stratosphere.  Last year, for Chanel's Métiers D'Art Pre-Fall collection Karl took us to London (literally and thematically).  This time, though showing in Paris, Karl was inspired by Russia.  It's not too far off the mark considering Chanel herself had a romance with a Russian noble, and was friends with Russian creatives including Stravinsky and Diaghilev.  In fact, she designed costumes for one of Diaghilev's ballets.  She was so inspired by her Slavic circle of friends that she even had a design period heavily influenced by traditional Russian dress, especially, of course, the men's garment.  But alas, I'm digressing – I'm here to talk about the clothes!


I've gone through the collection twice (so far), and each time I rush through it so quickly because I can't wait to see what's next and I miss so many details. Every time I go back and look again I find something else that makes my mouth water.  For me, the hair and head-pieces stole the show.  The garments, of course are amazing but the hair, the braids, the feathers, the dangling cascades of pearls and chandelier hair/hats – my goodness! A-maz-ing.  The "fantasy folkloric headdresses [were made] by Japanese wizard Kamo."  When asked what he had up his sleeve for next year, Karl said: "Shanghai Express — the trip [Chanel] never made."  Chanel was enamoured with Asian artwork and her apartment is known to have housed many, many Coromandel screens.  I cannot wait to see what next year will bring!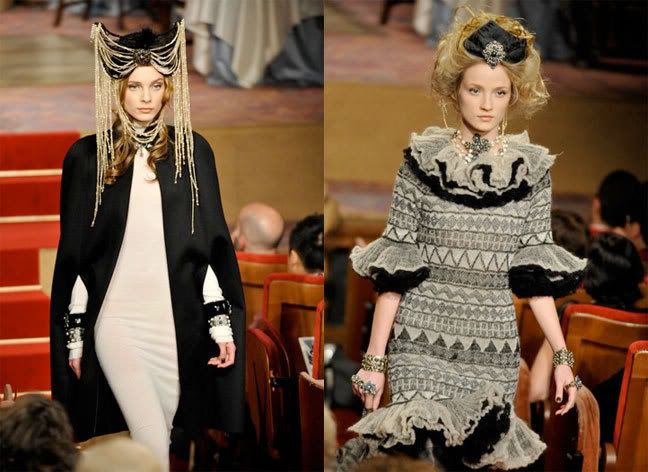 More pictures from the collection, as well as some video footage of the goings-on at the show with still images of the fashion. As soon as the actual show footage is available online we'll post it up for you! Jeez, I need a fairy god mother to bestow Chanel every season. Oh, fairy god mother, where are you??
Images & Info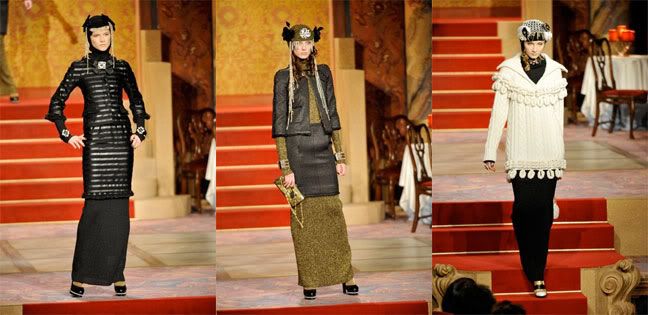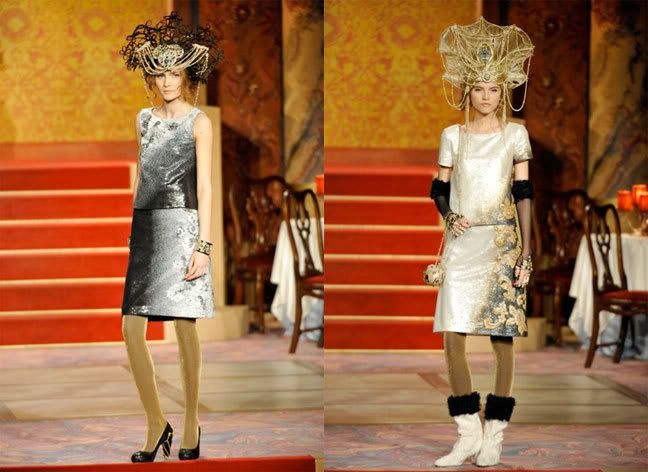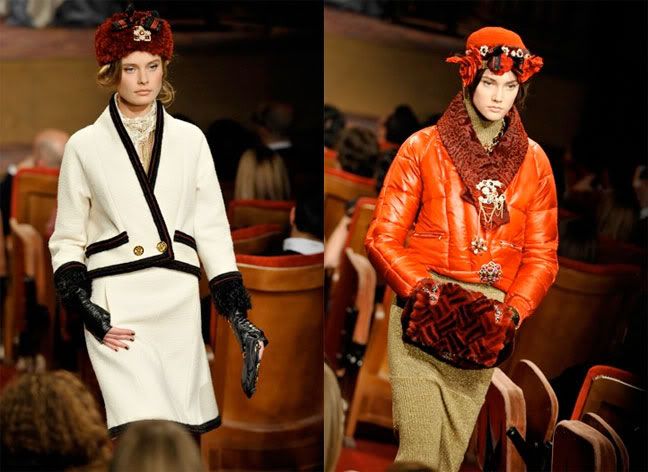 Similar Posts:
Tweet